So, you're sour beer curious?
Whether you're a newcomer or sour beer stalwart, this is a safe space. Everyone's welcome. We were once new to this unique oak-aged style too! Everything we've learned has been through hard work, dedication, and we'll admit – a lot of shared glasses of beer. As pioneering experts in sour beer, we're here to help and want to share our world with you.
A Quest to Create the Perfect Sour
We know that you appreciate the good things in life. But they're not always easy to find. At The Rare Barrel, we don't want you to write sour beer off your list because you've had a bad experience. Or because you think it actually tastes sour (but in a bad way). To us, sour beer is beer in its ultimate, most delicious form. That's why we've opted to focus exclusively on producing it.
The good news is that there is much more variety with sour beers than you might think. To myth bust, no – they are not all mouth-puckeringly sour. Some of our favorites are made with real added fruit like fresh strawberries and peaches for a sweeter, more approachable profile. Others are deliciously malty or light and refreshing. We like to treat our brewery like a well-orchestrated laboratory. Our team is free to play and experiment with all production and fermentation techniques. The result is a perfectly chilled medley of award-winning sour beers that will make you question why you've didn't discover this category sooner.
As its name suggests, sour beer has a distinct sour, acidic, and tart flavor. This taste is derived from wild yeast and bacteria and can't really be replicated in any other food or beverage. Many breweries prefer to stick with tried and tested traditional beers, which only take two weeks to produce, while sour beer can take up to two years! The entire process is a labor of love, but we believe it's 100% worth the effort!
We begin by doing a primary fermentation in stainless steel tanks for a couple of weeks, and then we move the beer over to oak barrels for an average of nine months. Throughout the barrel-aging process, we take samples to assess the development. If there are any off-flavors in a barrel, we take it out of the running. We toss an average of 20% of our beer this way so that we only work with the best lots.
Then we look for the good flavors. Those acidic, tart, and malty characters that blend beautifully to make a really great beer. The barrel is really where the magic happens. It's where the yeast and bacteria form a symbiotic relationship to complement each other's subtle yet complex flavors.
There's no doubt that patience is the key to this timely and expensive process. In truth, while we control the fermentation methods, the unique confluence of yeast, bacteria, and ingredients does the rest. Even if we wanted to make the same exact beer twice we couldn't! Instead, our flavors are season-dependent and ever-changing, meaning you're in for a new experience each time. One summer, you might taste our raspberry-infused Ensorcelled Wild Ale, while next time you visit our tasting room or shop online, you might enjoy one of our golden sour ales like Becoming, Hyper Paradise, or Guava Happens.
THE SEARCH FOR THE RARE BARREL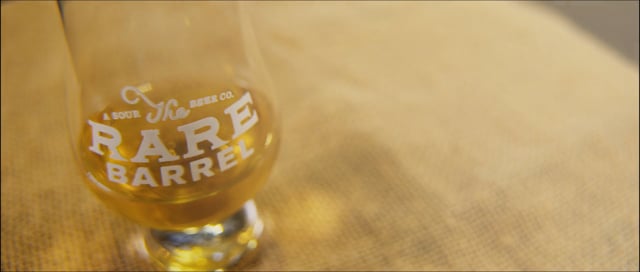 Pioneers in Berkeley
The Rare Barrel is an all-sour brewery based in West Berkeley, California. Since our first batch of 15 oak barrels in 2013, we have evolved to over 1000 in our barrel-cellar today. The company was started by co-founders Jay Goodwin (blending and brewing), Alex Wallash (sales and marketing), and Brad Goodwin (finance and legal). Our name may remind you that sour beer is only a small part of the American beer landscape. However, for us, the name speaks to our philosophy and story. We are on a mission to find the perfect barrel of sour beer in our brewery to isolate and propagate the yeast culture. That rare, magical blend of aromas and flavors that we can use as a base for future beers down the line.
At The Rare Barrel, we understand that you are searching for the best of the best. So are we. Have a sip, broaden your flavor horizons and become an ambassador of sour.
Awards
2014
Great America Beer Festival
Gold Medal for Cosmic Dust, American-Style Sour Ale
2014
World Beer Cup
Gold Medal for Ensorcelled, American Style-Sour Ale
2014
World Beer Cup
Bronze Medal for Shadows of Their Eyes, Belgian-Style Flanders Oud Bruin or Oud Red Ale
2015
Great America Beer Festival
Bronze Medal for Apropos of Nothing, American-Style Sour Ale
2016
World Beer Cup
Silver Medal for Ensorcelled, American Style-Sour Ale
2018
Festival of Wood & Barrel-aged beer
Silver Medal for Playing For Keeps, Wild Sour Beer w/Fruit
2018
Festival of Wood & Barrel-aged beer
Bronze Medal for The Search, Wild Sour Beer Ale
2021
Great America Beer Festival
Bronze Medal for teep Ravine in the Fruited Wood and Barrel-Aged Sour Beer category
The Rare Barrel Team
Production Team
These are the people who brew the beer, blend the beers, maintain the oak barrels, process tons of fresh fruit, and bottle the beers!
Tasting Room Team
When you come visit us, this is the team that is going to welcome you into our space, find that perfect sour beer for you, teach you about our beers and set you up with bottles to go!
Sales and Marketing
If you're a club member, Blender's Choice subscriber, work at a bar, restaurant or bottle shop, this is is the team that will make sure we get you the sour beers you want!